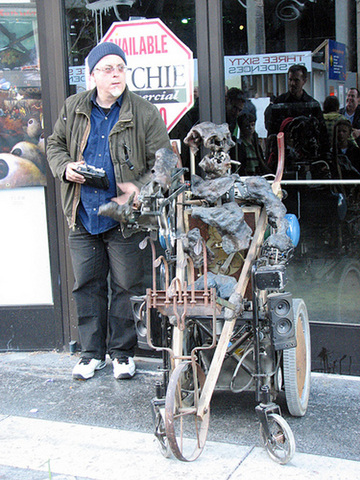 Frank Garvey (pictured above) participated in Phantom Galleries during the subZERO Festival last June with paintings and beggar robot. Frank is about to unveil his Wall of Ashes installation at his OmniCircus space in San Francisco and you're invited!
Grand Opening Celebration for the WALL OF ASHES Installation! Join Frank Garvey plus other OmniCircus collaborators Friday August 15 at 7pm at OmniCircus.
Over 20 years in the making, Frank Garvey's WALL of ASHES is finally open for public viewing!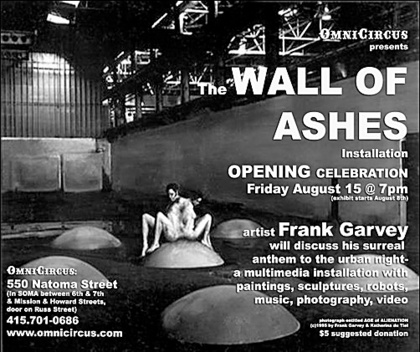 Garvey will discuss his surreal anthem to the urban night- a multimedia installation with paintings, sculptures, robots, music, photography, and video.
This installation will be open to the public most Saturday afternoons 12noon - 4pm, with special evening events TBA. OmniCircus DVDs, CDs and publications will be available for sale.
$5 suggested donation
The OmniCircus is located at 550 Natoma Street, between Mission and Howard and 6th and 7th Streets, in San Francisco's South of Market (SoMa) district. The door is on Russ Street. Please call 415-701-0686 for more information.