The grand opening of the new Joyce Ellington Branch Library on June 28 will feature the dedication of two new, site-specific artworks.

Congratulations to current KALEID artist Lucy Liew who created artwork elements for the Children's area of the Library.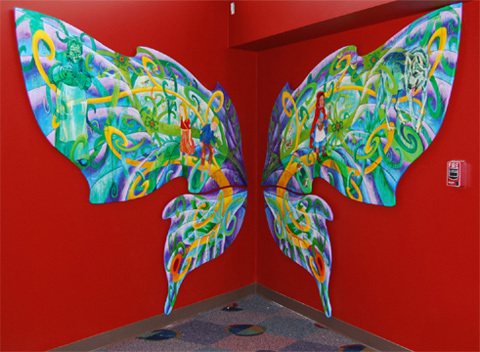 Inspired by the community's enduring connection to the elm trees that for many years had existed on the site, Liew's Trees of Knowledge are two "trees" built around columns of the building, rich with colorful images. She suggests that these "serve as a gateway to the world of imagination and learning that await the visitors to the Children's section of the library."
Liew's Metamorphosis - Transformation in the Woods is a painting in the form of butterfly wings (shown above upon installation). Positioned in the Storytelling Corner so that they will frame the storyteller, the imagery on the wings is intended to inspire positive themes for young readers.
Artist Masayuke Nagase's work Where The Tree Is Born, (depicted in the photo essay below) pays tribute to the Library's namesake, honored community member Joyce Ellington, as well as to the trees that formerly stood on the site. This exterior artwork, a granite sculpture in the form of a tree trunk, rises from a plaza filled with patterns of the shadows cast by tree branches. Low enough that it can be climbed or sat upon, the top surface of the sculpture contain rings of text referencing Joyce Ellington and area history. The sides have a bark-like texture that Nagase created using handprints collected from community members, including some of the students from the neighboring Grant Academy Elementary School.

The Joyce Ellington Branch Library Grand Opening
Saturday, June 28; the official program is from 11:00 AM - 12:00 Noon.
491 Empire Street, San Jose, 95112.
Both artists will be present to discuss their work immediately following the program.