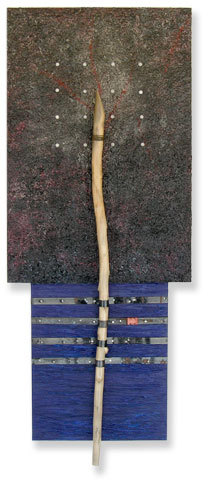 Past KALEID artist Werner Glinka has been very busy with several exhibits - he writes to tell us:
My solo show Extra Ordinary Nature is on view at the Caldwell Gallery, 555 County Government Center Redwood City.
Gallery Hours: Mon-Fri, 9am to 5pm.
The exhibit is on view until June 30.
I also show some of my new work at the Flea St. Café on a permanent basis. The Flea St. Café serves great food by Jesse Cool. The restaurant is located at 3607 Alameda de las Pulgas in Menlo Park, CA 94025 Phone: 650.854.1226
You can always see my new work at the 1212 Gallery in Burlingame. The Gallery is located at 1212 Donnelly Ave in downtown Burlingame, right around the corner from Il Fornaio. Please stop by when you are in Burlingame and see what the gallery has to offer.
On a side note, Werner also just returned from a highly successful exhibit in Germany with a group he helped found called the German American Artists.
Seven member artists of GAA participated in the Königswinter Kunsttage 2008. The Kunsttage (Days of Art) are held annualy in Königswinter a City on the river Rhein in the heart of Germany. Königwinter is located close to Cologne the center of the current German art scene and the former German capitol Bonn. The reception with the artists was held on Saturday, March 8 at the Galerie im Margarethenhof.