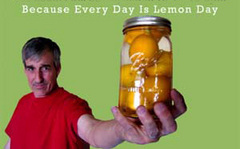 We've posted a few items for SJICA's upcoming exhibit This Show Needs You and here's another one that should be fairly easy to participate in!
Lemon Everlasting Backyard Battery is a project by Susanne Cockrell and Ted Purves with Joseph McHenry for This Show Needs You, a participation based exhibition from March 28 - May 17.
Bring garden-grown lemons from non-quarantine areas to the ICA on March 18-19.
Not sure if you are in a quarantine area? Check out these maps for the Med Fly and Apple Moth quarantines in the Santa Clara County. Still unsure? Call the ICA for further info.
Check out all the ways that this show needs you with a full list of its public programs.
Questions? Contact Susan (at) sjica (dot) org