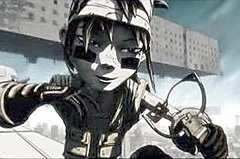 2007 Computer Animation / Film/ VFX winner
Codehunters by Ben Hibon / BlinkInk Productions
For the 22nd time, Prix Ars Electronica, the foremost international prize for computer-based art, calls for entries in the categories Computer Animation / Film / VFX, Interactive Art, Hybrid Art, Digital Communities, Digital Musics, the Media.Art.Research Award and u19 ? freestyle computing, Austrian?s largest youth computer competition.
More than 3,300 submissions in 2007 have further enhanced the Prix Ars Electronica?s reputation as an internationally representative competition honoring outstanding works in the cyberarts. This year, six Golden Nicas, twelve Awards of Distinction and approximately 70 Honorary Mentions as well as the Media.Art.Research Award are presented to participants. The 2008 winners will receive a total of 115,000 euros in prize money.
For a detailed description of the competition, please consult our website Prix Ars Electronica
The deadline for submissions is March 7, 2008.