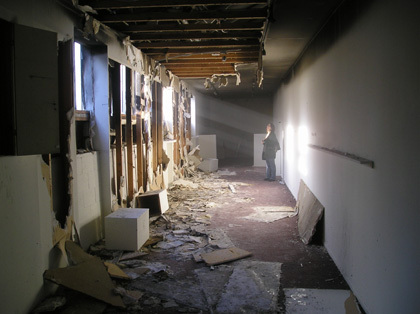 Many of you will recognize the above image as one of the main art halls of ArtObjects Gallery in Japantown.
Ken informed us on Nov. 28th: the artobjectgallery suffered major damage to much of its space last night due to a fire which totally destroyed the structure next door which was being used as a boarding house to as many as twelve men. all made it safely out but for one 27 year old who lost his life.
worth noting.... prior to fighting the fire in the gallery the fire fighters moved all the artwork from walls and pedestals to safe places. only after this was accomplished did they begin ripping down sheet rock from the ceiling and walls to expose the wood framing. it is a minor miracle that no artwork was lost or damaged as far as I can see. (There is more information on this in the Mercury News article here.)
We are saddened to hear about this tragedy. Ken and Joy will be open on First Friday December 7th from 7-9pm as they felt friends may want to come together and reminisce.