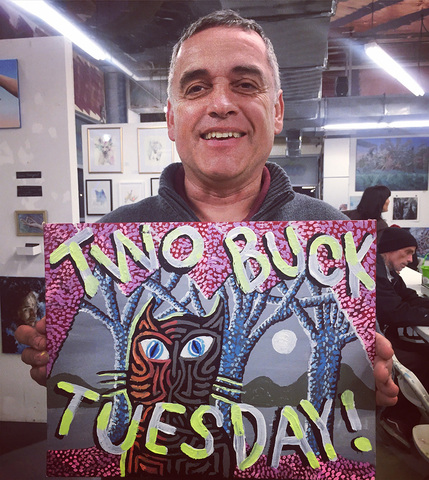 Join us for the monthly artists + community creative get together. Draw, paint, chat with artists, view the feature exhibitions plus amazing work by 70 resident artists all on site with $2 art available ONLY at TWO BUCK. Free admission and all ages welcome.
This month features artists Jeff Bramschreiber, Jemal Diamond, Joe Mandrick, Alfred Preciado and Mark Martinez all onsite creating new works and available to chat about their process.
The life drawing session model is Aleena Saha - "a futurist stuck in the suburbs" - hosted by Matthew Heimgartner.
There's two excellent solo exhibitions in the feature gallery to check out: "Things Unspoken" by Matthew Heimgartner and "Pollinators" by Rose Margaret.
HAEZ ONE will be performing live music from his recent album "San Hopeless" (cassettes will be available).
Tuesday March 19th, 7pm–10pm
Free admission, all ages welcome.
KALEID gallery
88 S. 4th St.
downtown San Jose
free street parking after 6pm