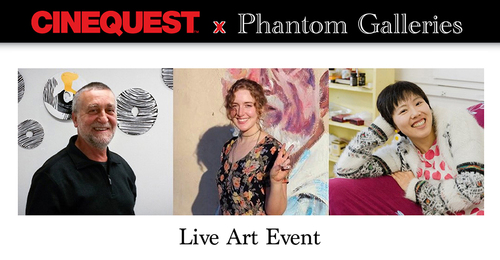 Join Cinequest and Phantom Galleries as three local artists paint live to the festival theme of "The Unexpected"! Watch as these artists paint their masterpieces on site in the California Theatre in the VR Cinema on the 3rd Floor) from March 7 - 10th (10am–7pm each day). You can participate by voting for your favorite.
Gianfranco Paolozzi is as much a conceptual artist as he is a painter. Each painting is considered a memory journal....the painting evolves over time, just as our memories seem to. The "finished" date of the paintings are a date of abandonment rather than completion.
Rose Margaret is a painter, wood-burner, caregiver, composting enthusiast, student of permaculture, and muncher of plants. She does her best to support Mother Nature's wellness on a daily basis.
Harumo Sato is a California based Japanese visual artist who graduated from University at Buffalo in 2015. In questioning our busy and highly industrialized daily lives, she translates old mythological analogy and allegory imagery into modern, colorful, and unique visual images. She has a strong interest in pattern design which has traveled through many cultures and contexts over the centuries. With the various colorful materials like screen prints, Japanese watercolor, sumi ink, and acrylic she seeks visual pleasure and vivacious energy to open the viewer's mind. (Photo credit: Arabela Espinoza)
For more information on this year's Cinequest Film Festival, please visit: https://cinequest.org.
For more information about Phantom Galleries and its artists; please email us at info[at]phantomgallereis[dot]com