REMINDER: There's no South First Fridays Art Walk this Friday January 5th due to a holiday break. The art walk will return first Friday February 2nd.
In the meantime; get your art fix with us at Sara's new mural unveiling party!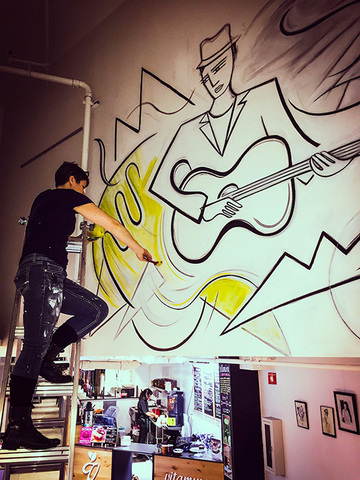 Phantom Galleries is proud to present a new mural by Sara Tomasello entitled "Resonate" at Sofa Market in the SoFA District downtown San Jose.
Join us in celebrating the completion of Sara's on-site painting which evokes the energetic fluidity of the creative spirit and the poetic balance of feminine & masculine; art & music and the love of community commissioned by the amazing folks at SoFA Market.
RESONATE mural unveiling party on Friday JAN. 12th from 6pm to 9pm:
• 7pm: a few words from the artist
• Great music by EOM Sessions
• A tandem exhibition of Sara's canvas works will also be featured
• Happy hour prices at the The Fountainhead Bar when you mention Sara.
• Several delicious eateries on site for dinner with friends and family.
• Free admission & great for all ages.
Contact Phantom Galleries with any questions at info@phantomgalleries.com
SoFA Market is located at:
387 S First St., San Jose, CA 95113
www.sofamarketsj.com