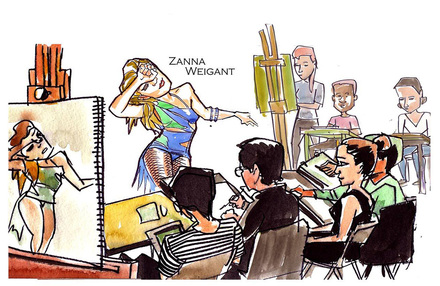 Join us at KALEID Gallery for this upcoming TWO BUCK Tuesday, March 17th, 7pm-10pm!
Come enjoy an inspired evening of performances, live painting, $2 art, drop-in sketching table & quirky people get together! Itís open to all ages and free!
Participating Artists include:
Dancer Zenna Weigant will model for a 2 hour still life drawing session, hosted by the infamous David Mejia! Paper and pencils will be provided if you don't already have your own.
Legendary Al Preciado will be doing an all ages demo of his sculptures on a stick. "Can I sculpt a hummingbird?" YES! Hummingbirds, Angels, superheroes and MORE!
Remember when you wanted to learn two dimensional concepts, but couldn't find the time or the right teacher? Well, our very own rock star James Pollard will be in house doing just that!
Thomas Morrow will be here freezing time with his camera and marking our place in history. So make sure to bring your best smiles!
"Man! I wish i could melt minds with super intricate mandala sharpie sketches like my hero Jojo Perea!" You're in luck, because Jojo will be spreading his knowledge of his mind melting techniques.
After seeing all this amazing art, you're probably gonna need to heal your now blown mind. Well luckily for you Jessica Neideffer will be on sight repairing mind, body, and soul with her sound healing bowls.
LIVE ART BY:
Alfred Preciado and Friends
Michael Borja
Steve Borelli
Jojo Perea
Gary Singh

TWO BUCK Tuesday is March 17th, 7pm-10pm!
Join us on Facebook: https://www.facebook.com/kaleidgallery

KALEID Gallery
88 South Fourth Street (@ San Fernando)
San Jose, CA 95112
info@KALEIDGallery.com
408-947-1785
Gallery Hours: Tuesday Ė Saturday, noon -7pm
Free admission