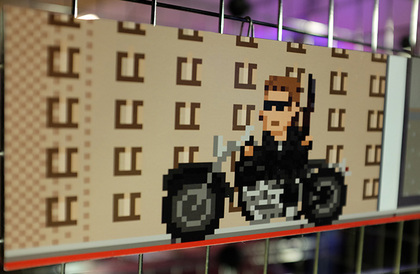 Artist David Canavese of OtherLife Art announces a series of workshops at TechShop San Jose.

PIXEL ART
Friday January 23rd & Saturday 24th (2 separate offerings)
Do you enjoy the aesthetic of 8-bit or 16-bit videogames, or love the look of games like Minecraft? A lot of little dots can really add up to something neat! Drawing something one dot at a time might seem overwhelming at first, but in this class, you'll learn how this "digital pointillism" is really fun and easy!
Learn the basics of creating pixel artwork in Photoshop, including videogame characters (known as "sprites") as well as landscapes and architecture. Though the class will focus mainly on 2D pixel art (as seen in "sidescroller" video games), you will also gain a basic understanding of isometric ("3D") pixel art.

PAPERCRAFT
Friday January 23rd & Saturday January 24th (2 separate offerings)
Learn basic papercraft skills as an outlet for your creative side in this class. Papercraft is a fun, impressive, inexpensive art form, versatile enough to create just about anything you can imagine!
In this class you will learn about design, construction methods, layering, part-cutting using precision scissors and hobby knives, piece placement, and gluing techniques. Use all of these and more to complete a small paper spaceship model designed by the instructor, or create your own project from scratch!

POLYURETHANE SCULPTURE
Saturday January 24th & Friday January 30th (2 separate offerings)
In this class, you will create lightweight sculptures from wire and expanding insulation foam--a fun medium with nearly endless potential! Learn how to control this challenging yet fun medium to create durable organic shapes that dry quickly. Practice armature building and foam application techniques, discover different textures you can achieve with foam, and find out how to avoid common pitfalls from an artist with several years' experience with this foam.
This foam can be cut easily, so subtractive methods are also possible. Learn how the foam "behaves", practice existing techniques or create your own! Your imagination is the only limit.

For signup info, please contact:
TechShop San Jose
300 South 2nd Street
San Jose, CA 95113
(408) 916-4144
Email: info.sj@techshop.com