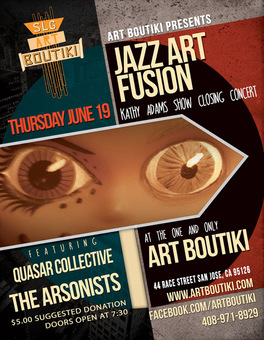 The Art Boutiki closes out the run of Kathy Adams Solo Show "Out of the Flame and Into The Fire" with a Thursday night live Jazz concert and closing reception on June 19th at 7:30pm.
This will be the last chance to see Kathy's unique vision on display at our space and a great opportunity to catch two amazing jazz combos in the intimate and inspiring space that is The SLG Art Boutiki & Gallery
Quasar Collective has been playing in some of the South Bay's best known Jazz venues including Cafe Stritch and Blackbird Tavern.
The Arsonists are a group of Seattle based musicians who have been wowing audiences from across the country and who will be stopping by our spot during their California tour.
Admission to the art gallery is always free, there is a suggested donation of $5.00 to see the bands.
Facebook event page: https://www.facebook.com/events/280897702090414/
SLG / ArtBoutiki
44 Race Street
San Jose, CA