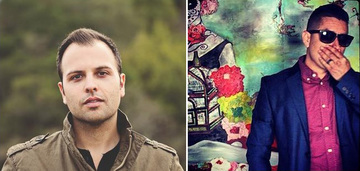 Final Friday Art Party with? CHRIS REED & TULIO FLORES
Friday, July 25, 2014, 6 p.m.
Local Singer-Songwriter and Montalvo Teaching Artist Chris Reed is an inspirational folk artist with big-hearted and delightfully refreshing lyrics. His music carries a loveable pop tone, while his folk styled sing-a-long choruses compliment his friendly presence on stage mixing elements of reggae and blues.
For July's Final Friday Art Party, Reed will premiere his new one of a kind music video and single "We are One," a collaboration with hundreds of students across Silicon Valley. As a Montalvo Teaching Artist, he works with Montalvo's Education Programs to teach science and math curriculum in local schools through the platform of music and art. From junior high to preschoolers with visual and orthopedic impairments, Chris has brought students together singing and performing, truly reflecting the beauty, diversity and strength we all share in the Silicon Valley and how the arts can unite us all.
Joining him will be Tulio Flores, a contemporary artist from San Jose. His mixed media work combines paint with recycled found objects such as candle wax, wood, metal objects, strings, natural plants and more. "Art can be used to celebrate the ups-and-downs of our lives," say Flores. "My work tries to show us all that there is beauty in everything."
Enjoy a perfect summer evening with music, art, live painting demonstrations, food, and refreshments!
TICKET PRICES : $10 Suggested Donation
http://montalvoarts.org/events/final_friday_0714/
Montalvo Arts Center
15400 Montalvo Road
Saratoga, CA 95071