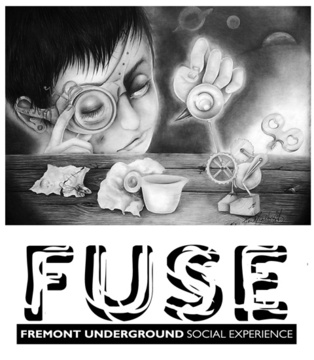 Fremont Underground is a new series of events to bring artists, performers and indie retailers to showcase, exhibit and make their art & creative products more accessible above ground.
Be there for the launch THIS Saturday, May 17th, 6-10pm!
Free & open to the public with plenty of free parking.
The May 17th launch features these artists:
Michael Borja
Nic Caesar
David Canavese
Michael Denning
Michael Foley
John Hageman
Gooseneck Bicycles
André Hart
Treigh Love
Tomas Morrow
PeeMonster
Anna Nguyen
Joe Perea
Colleen Sandic
South Bay Circus Collective
JoAnne Yada
Before I Die wall
and DJ Coco
China Chili Restaurant will be open late and gourmet food truck Yummy BBQ will be on site!
Location: Town Fiair Shopping Center
39112 State Street
Fremont, CA (map)
https://www.facebook.com/events/242702499255924/
Events will be held on the 3rd Saturday of the month from May through October 2014 (except Aug.).
Fremont Underground Social Experience / FUSE is made possible with the support of the City of Fremont.