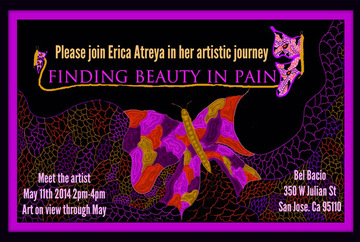 New works by Erica Atreya.
" I am not sick. I am broken. But I am happy as long as I can paint." These words spoken by an artist that always inspired me the most...Frida Kahlo. Through all her suffering, tragedy after tragedy she was so full of life, passion and strength. I thank her for showing me that with all my pain and suffering I can and will find true beauty in pain.
Sunday, May 11?at 2:00pm - 4:00pm?
Bel Bacio - Italian Cafe
350 W. Julian #4 (Pleasant Street)
San Jose, California 95110?