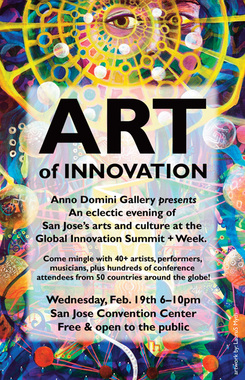 ART of INNOVATION: Global Innovation Summit Closing Party
Anno Domini Gallery presents an eclectic evening of San Jose's arts and culture at the Global Innovation Summit + Week.
Come mingle with 40+ artists, performers, musicians plus hundreds of conference attendees from 50 countries around the globe!
Wednesday, Feb. 19th, 6–10pm, free & open to the public.
San Jose Convention Center (lower level of new expansion)
150. W. San Carlos St., downtown San Jose.
Participating Artists / Performers
Frank Aguilar / sculpture
Brandon Anderton / painting
Arcade by SJSU Game Dev
Art Alive Gallery by Trina Merry / installation
Becca's Studio / crafts
Ytai Ben-Tsvi / IOIO Plotter
Bingus Pingus Art / crafts
David Canavese Art / sculpture
Classic Loot / vintage jewelry
Jean Davis / paintings
Drew and Barb / fashion & jewelry
Force 129 / paintings
Michele Guieu / Species Encounter
Andre Hart / paintings
Jeff Hemming / paintings
Al Linke / LED Pixel Art
Jason McHenry / drawings
Mejia Arts / drawings & henna
Mariya Milovidova / drawings & fashion
Minou / paintings
LauruS Myth / paintings
Noise Furniture / urban upcycling
Gianfranco Paolozzi / mixed media
Poet Laureate David Perez / The Poetry Site
Steven Reece / pyropaintings
Seeing Things Gallery / paintings & zines
Slave Labor Graphics / indie comics
Geoffrey Smith II / GIS photo booth
South Bay Circus Arts
TechShop San Jose
Tim Thompson / Space Palette
Visual Confections / jewelry
Live Music:
SCLOrk /Santa Clara University Laptop Orchestra
Freya Seeburger / cello
ShovelMan / junkyard beatnic
Haptic Synapses / improv electronic

Join our Facebook Event page here.
The Global Innovation Summit is a major gathering of leading entrepreneurs, executives, scientists, inventors, venture capitalists, journalists, investors, policy makers, social entrepreneurs, and innovation thought leaders from 50 countries. The Global Innovation Summit is the anchor event for Global Innovation Week. The Art of Innovation event will be the closing party for all conference attendees, and open to the public. Free admission.
Hosted and sponsored by the City of San Jose, Global Innovation Summit and Anno Domini.
For more info visit: www.globalinnoweek.com or call 408-271-5155.
Image by: LauruS Myth