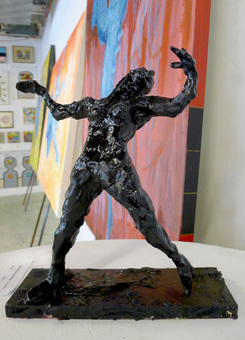 Brüken Eingang
A New Exhibition featuring the multi-disciplined work of Al Preciado
December 14th at the Citadel from 7 pm – 11 pm
Also featuring New Music by jazz and indie musician, Mitch Waldman
Artist, curator, educator, Al Preciado will exhibit a collection of new work, as well as personal favorites, including paintings, sculptures, and mixed media work at the Citadel on December 14th from 7 pm-11 pm.
The exhibition entitled, Brüken Eingang, features the diverse subject matter, which have been the creative focus of Preciado's work over the years. Although this show's subject matter is as varied as landscapes, ballerinas, dogs, and mythology–all presented in Preciado's signature free-spirited, fluid, and expressive style.

The exhibition, Brüken Eingang, is free and open to the public.
The Citadel
199 Martha St.
San Jose, CA