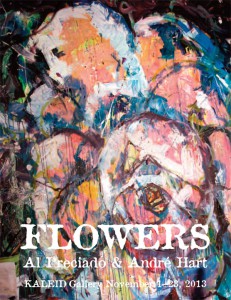 FLOWERS collaborative works by Andrť Hart and Al Preciado
This is a show about flowers, but itís not really about flowers.
Itís an exhibition featuring two artists.
One a loose, out of control, maniac beast of an artist. The other sublime, controlled and
precise with each brushstroke.
One represents generation Y, the other is an archaic relic from the baby boomer generation.
This is a show about creative construction and destruction and reconstruction.
This is heaven and earth, good and evil.
This is an angel flowing out with goodness smashing into Satan with his baleful look.
This is a wordless, nonverbal explosion of two like-minded individuals exploring in an organic
and intuitive way the process of painting by the combination of divergent styles.
This is a show about flowers , but itís really not about flowers.
Artistsí Reception: Friday, November 1st 7-11pm
part of the South FIRST FRIDAYS Art Walk
Exhibition dates: November 1Ė23, 2013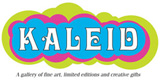 88 South Fourth Street (@ San Fernando)
San Jose, CA 95112
info@KALEIDGallery.com
408-947-1785
Gallery Hours: Tuesday Ė Saturday, noon -7pm
Free admission