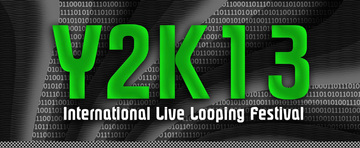 BEST of Y2K13 International Live Looping Festival featuring looping artists from around the world.
ANNO DOMINI Gallery
366 S 1st Street, San Jose, CA 95113
www.galleryAD.com
Wednesday, October 16th, 7pm
Admission: $5 at the door / Students (w/ ID) Free

7:00pm SEMIH YANYALI (Turkey)
Yanyali will perform a set of electronica, dub, eastern, jazz mix which he will be performing with Ableton Live, Push and guitar. Lots of live beats, sounds and fx and melodies.
7:30pm ANI (United States)
ANI (Amy Lee) is a San Francisco Bay Area live-looping music performer who creates wicked beats, chord progressions, and wild solos all in real-time 100% improvised on iPads. No two performances are the same and no preset drumloops are used.
She is not a DJ.
8:00pm STEPHEN BRIGGS (New Zealand)
A background in Progressive Rock and more recently Post Rock influences allied to several years of finger picking and Classical guitar have united with a busy pedalboard of stomp boxes to now enable me to become my own solo band.
8:30pm LUCID BRAIN INTEGRATIVE PROJECT (France)
Emmanuel Reveneau is a French artist involved in music, video and theatre, whose work is deeply informed by self-organization theories, situationism and irony.
9:00pm MANDOMAN (Japan)
Creating a cross between a symphony orchestra and full rock band with a single Mandolin, MandoMan has been a constant audience favorite at the festival for many years.
9:30pm PREHISTO'ZIK (France)
In music sets of PREHISTO'ZIK, I try to create music representing an anachronistic mixture: one side the modern ethnocentric equipment of occidental culture using a looper and a clarinet, and the other side the ancestral and universal sounds of materials like clay, wood, stone. I make my own instruments, based on actual archeological and ethnologica knowledge.
10:00pm RICK WALKER (United States)
Considered an expert in the fields of cross cultural rhythmic expression, odd time, polyrhythms and different 'groove' expressions in American popular music, he's also a multi-instrumentalist (keyboards, strings, wind, brass, voice and found sound). He's made his living as producer, studio musician, teacher, sound designer, author, band leader, live looping innovator and is the producer of the world's largest annual live looping festival, the "Y2K13 International Live Looping Festival"
Plus live interactive looping video by Maha! on the Loopy Cam

BEST of Y2K13 International Live Looping Festival
ANNO DOMINI Gallery
366 S 1st Street, San Jose, CA 95113
www.galleryAD.com
Wednesday, October 16th, 7pm
Admission: $5 at the door / Students (w/ ID) Free
Facebook event page: https://www.facebook.com/events/345254202287684/
Y2K13 International LIve Looping Festival OCT 16th–21st
http://y2kloopfest.com