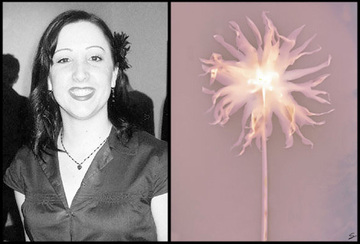 Photographic Lumen Printing with Shannon Amidon
?Saturday September 7th
?1:00pm – 2:30pm
?$35.00 per person – Materials Included.
To register:  come into the gallery or call us at 408-947-1785.?KALEID Gallery 88 South Fourth Street, San Jose, CA?
Ghostly color prints are made using a method evocative to that of William Henry Fox Talbot, who made camera-less images of botanical specimens in the 1830?s. These distinctive prints are made outdoors using direct sunlight, plant specimens, black and white photographic paper and chemical fixing. Each unique image is a one of a kind print revealing an astonishing array of images from representational to absolute abstractions of color, shape, and form that celebrate beauty and uniqueness of nature.? Recommended age 8+
About the instructor: ?Shannon Amidon is a photo based mixed media artist from the San Francisco Bay Area. Her artwork explores the beautiful and mysterious sides of natural history and has been exhibited worldwide.  Shannon was the 2011 Arts Council Silicon Valley Artist Laureate, receiving a Fellowship Grant in photography. She was also the recipient of the Eco Art Grant and studio make over from the Art Inspector part of the Zero One Art and Technology Network. She has been an artist in residence at the Herhúsid House Artist Residency in Iceland as well and the David in Julia White Artist Colony in Costa Rica.  Shannon is active in her local arts community contributing her time, knowledge and art whenever possible. She is also involved in education outreach for children and young artist mentoring.
www.shannonamidon.com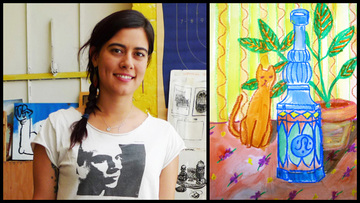 Join us for two workshops by Frances Marin!
Habit of Sketching with Frances Marin
6 Week Series Class?
Fridays 2:00pm – 4:00pm
Dates Sept.14th, 21st, 28th, Oct. 5th, 12th, 19th?
$275.00 per person – Materials Included
To register come into the gallery or call us at 408-947-1785.?
An ongoing course on keeping a journal or sketchbook habitually through words and imagery. There will be discussion on changing our habits and reaching goals. Each class will use a different media and strategy to generate ideas for creativity and expression. There are simple take-home assignments between classes that are not required, but you will benefit greatly if you complete them. "Students must bring their own 8.5? x 11? sketchbook (a book slightly smaller or larger is fine too)". Recommended ages 14 +

Beginning Plant Painting on Upcycled Wood with Frances Marin?
Friday September 20th
?4:00pm-6:00pm?
$60.00 per person – Materials Included?
To register come into the gallery or call us at 408-947-1785.?
Learn to paint on an upcycled wood scrap from the local lumberyard. The workshop is for beginning (or those that need a refresher) painters and attendees will complete a painting in two hours. This fast-paced workshop will review materials and techniques in the first half hour and for the last hour and a half, the painting will be completed. Instructor will bring plants for attendees to observe and all students will go home with a completed painting, ready to hang.Recommended ages 16 +
About the instructor:?I started out as a self-taught artist, drawing, painting, writing books and fashion designing on my own as a child. I was very prolific and self-motivated. It is fascinating to look back on my childhood art, as there are a lot of similar themes in my art now including dwellings, animals, modes of transportation and people. I am interested in how people behave (or misbehave) and seek patterns and connections through synchronicity, the subconscious, history, memory and alchemy. Working with paint and ink are my primary mediums, though I dabble in sculpture and textiles as well. I am currently writing a children's book and love teaching people of all ages. My art is in collections throughout the world including South Africa, New Zealand, Europe and Canada.
All workshops take place at KALEID.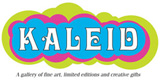 88 South Fourth Street (@ San Fernando)
San Jose, CA 95112
info@KALEIDGallery.com
408-947-1785
Gallery Hours: Tuesday – Saturday, noon -7pm?Free admission