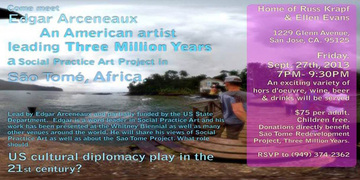 Come meet Edgar Arceneaux, an American artist leading Three Million Years, a Social Practice Art Project in São Tomé, Africa.
Lead by Edgar Arceneaux and partially funded by the U.S. State Department. Edgar is a world leader in Social Practice Art and his work has been presented at the Whitney Biennial as well as many other venues around the world. He will share his views of Social Practice Art as well as the São Tomé Project.
More info about Arceneaux here
.
Friday Sept. 27th 7pm-9:30pm
Hors d'oeuvres, wine, beer & drinks will be served
$75. per adult / children free
Donations directly benefit São Tomé Redevelopment Project, Three Million Years.
RSVP to (949)374-2362
The event will take place at the home of Russ Krapf and Ellen Evans
1229 Glenn Avenue, San Jose, CA 95125