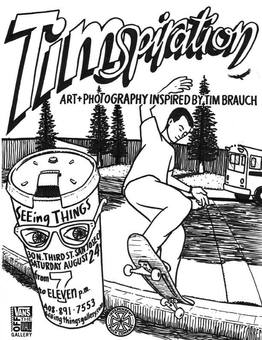 Timspiration art and photography inspired by Tim Brauch.
featuring: Matt Sharkey, Jai Tanju, Jason Adams, Jon Humpries, Mark Waters, Bryce Kanights, Russ Pope, Isreal Forbes, Scotty Greathous, Jason Arnold, Creature Lee, Andrew Meecum, RS2, Mike Crabtree, Lance Dalgart, Tobin Yelland, Grant Brittain, Jason Arnold, Steve Caballero and Chet Childress!
"Who's Your Daddy" tour video edited by Matt Ev's and RS2 acoustic set!
Seeing Things Gallery
Saturday August 24th 7 pm tp 11 pm
30 North Third St. San Jose, CA