This Friday Aug. 23rd, 7-10pm is the Midtown Beat art walk on The Alameda. Highlights include: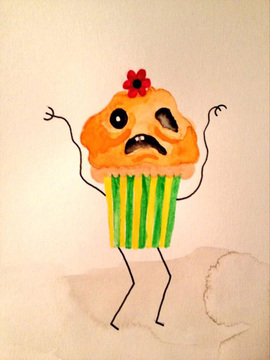 SLG/ART BOUTIKI
East Bay artist Belinda Adams comes to the Art Boutiki two days after the end of the apocalypse known as Zombie-O-Rama., showing work from her new booklet Zombee Cakes as well as other zombie paintings.
There will be live music and lots of art from other local zombie artists (well, the artists aren't zombis, they just draw them, but who knows they might be by the time this show roles around).
Live music too!
SLG/Art Boutiki
44 Race St San Jose, CA 95126
------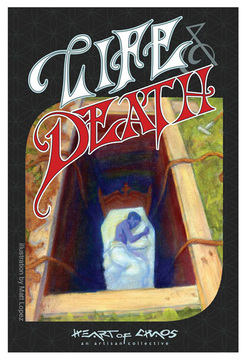 "Life & Death" presented by Heart of Chaos at The Usuals.
Life and Death: An Exhibit of Contrasts
Life:
When the energetic force that animates the physical body manifests for all to see and feel.
Death:
When the energetic force that animates the physical body withdraws leaving an empty shell with a marked decrease in resemblance to the living organism.
Life is terminal. Death a mystery. Carlos Castañeda's spiritual teacher Don Juan advised him to keep death on his left shoulder. He meant let an awareness of death inform your life and teach you how to live fully. This exhibit is an exploration of how those two realities intertwine and play off each other in a net of time and space. Join us for a compelling expression of this dynamic dance of contrasts.
Beats provided by Joe Kidd throughout the evening
Poetry by Ruben Alexander Barron, Alyssa Kimiko and Enoc Lira, 8pm
Music by RABBIT QUINN, 9pm
VISUAL ARTISTS:
Michael Denning / Miguel Machuca / Basic Lee / Tulio Flores / Ana Villafañe / Jaclyn Alderete / Michael Foley / Mireya Villanueva / Steven Herman / Tyson Johnston / Urbano Espinosa / Maggie So / Alexandria Perez / Greg Kerekes / Anthony Barbaria / Erica Atreya / Jarid Duran / Jesse Cupp / Chelsi Whiting / Matthew R. Lopez / Sean Vincent Vallo / Yolanda Guerra / RA Barron / Free Barron / Eric Shaffer / Robbie Sugg / David Canavese / Carolann Espino / Leeonnista / Jesse Huelsenkamp / Manda Bukes / Eli Lippert / SKOP / Adam Espino / Carlos Rodriguez / John Cloud / Angel Guard Noon / Anabella Pinon / Freddie Vega
FREE ENTRANCE
The Usuals
1020 The Alameda
San Jose, CA 95126