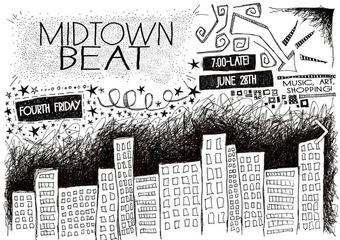 Four of the coolest spots along The Alameda get the Midtown Beat kicked off right. Come check out their art displays and sample the wares of these eclectic retailers.
Best of all it is all FREE!
The Arsenal, Art Supply
1202 The Alameda
Hogar Dulce (a)Hogar
Mitsy Ávila Ovalles Solo Art Show (continuing)
The Art Boutiki
Comics & Graphic Novels
44 Race Street
I Am Not A Tracer - The Inking Art of Mick Gray
plus Live Jazz by Grooveyard Shift
Current Tattooing
48 Race Street
Live Painting by some of Current's talented artists.
The Usuals, Clothing & Art
1020 The Alameda
"Proper Dosage" an Art Show by Bryce Larson and Travis Gonsalves

More info on Midtown Beat here.