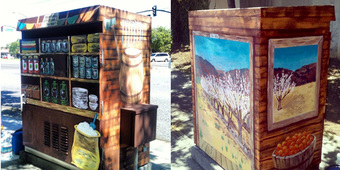 New completed painting (on a corner utility box) by the amazing Frances Marin for our ArtBox Project on the corner of Pearl Ave & Branham Lane (off of 87) in San Jose.
The sponsors wanted some historical content on their box, so Frances came up with the great idea of creating a perspective for the viewer of being inside the old General Store looking out.
If you're an artist that would like to join our project, please email us at info[at]PhantomGalleries.com and we'll get you more details.