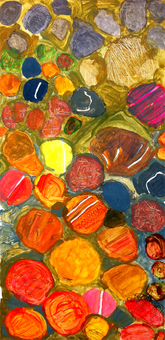 Rocks, Waves & Clouds: New Scroll Paintings of Matthew Bailey Seigel
Similar to traditional Asian scrolls, Matthew's paintings capture the impermanence of an idea or location. His new paintings were inspired by the natural beauty of a low tide walk along Maine's rocky coast.
Overwhelmed with the colors, forms and relationships of rocks, the sea and sky, Matthew immediately set up an impromptu studio on his father's farmhouse porch. The result are these modern, vibrant scrolls in two sizes, acrylic on synthetic rice paper, hung on aluminum rods.
His brush work is fast, improvisational, fluid, playful, never repeating, conveying core elements of "rocks, waves and clouds". Distilled to their essence. The only element missing is the smell of balsam fir.
Matthew is excited to have a solo show in the Velcro Gallery and invites you to experience Maine.
The gallery is open with the artist in attendance on Saturdays May 4 & 18, Noon-6pm.
Other times by appointment.
Velcro Gallery
560 4th Street
San Francisco, CA 94107
415-593-7755
Velcro Gallery is less than 2 blocks from Caltrain station, and short
walk to museums. Map