We'd like to thank CINEQUEST for another great year of collaboration and inspiration!
Artists Jeff Hemming, Melanie Sharr and André Hart spent the course of the Cinequest 23 Film Festival painting in the expansive windows at Camera 12 engaging audience as they passed through the paseo. The three artists made it a difficult choice to choose a winner, but Jeff Hemming won the vote as announced at the Cinequest Closing Ceremonies at the California Theatre on Saturday March 10th (followed by a special screening of "Midnight's Children" by Maverick Award Winner Salman Rushdie.)
We're very proud of Jeff, Melanie and André and look forward to next year's Phantom Galleries x Cinequest Live Art Contest partnership!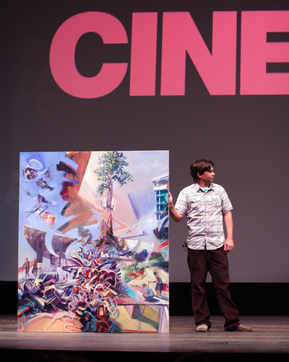 Jeff Hemming
Untitled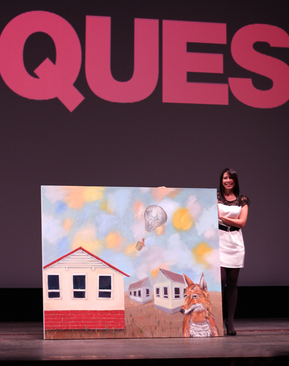 Melanie Sharr
"In the Air", oil on canvas
On the theme of "Unleash": The character in my painting is at the crossroads of a decision. He imagines himself leaving his environment thereby the mind is another form of escape. ~Melanie Sharr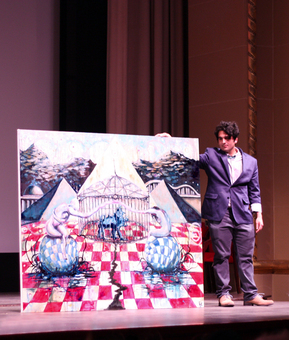 André Hart
"Homage to a Friend", oil, acrylic on canvas
On the theme "Unleash": The piece is tribute to a long time friend and mentor, Al Preciado. The dog in the center of the cage is being unleashed and bowed to by the two figures. Also to glorify and celebrate Al, I have put religious Symbolism through out the piece. ~André Hart