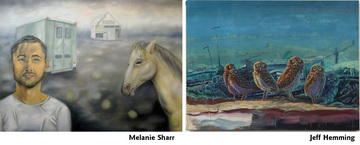 KALEID Gallery has begun new feature interviews with their artists on their website beginning this month, February 2013. As you may know, each month their main entry wall features two solo exhibitions by chosen resident artists there. Artists' receptions are held during the South FIRST FRIDAYS Art Walk on the first Friday of the month.
Kicking off this new feature are interviews with Melanie Sharr, and Jeff Hemming. Both artists are incredibly talented painters, each is from very different backgrounds and draw from different influences creating unique narratives with excellent techniques.
READ the interviews here, and then visit Sharr and Hemming's solo exhibitions. Both are on view through this week ending Friday February 22nd.

KALEID Gallery
88 S. 4th St.
Downtown San Jose, CA
Gallery hours: Tuesday–Saturday, Noon-7pm, free admission.