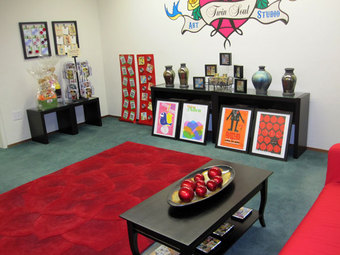 Calling all artists who not only love to create, but who have a passion to instruct or share their craft with others!
My name is Jeanne Yee, owner of Twin Soul Art Studio, located in downtown Los Gatos. The studio opened in 2009 and remains a fun and creative space for eager learners. I mainly teach collage and some mixed-media projects to students ages 7 to adult. I want to recruit a few artists via the KALEID Gallery & Phantom Galleries circuit to teach classes at my art studio in the near future.
Here are the fine art categories I am interested in:
Encaustics
Jewelry-making (beading, wire-wrapping, resin, metal stamping, soldering, etc)
Textiles
Mixed-media assemblage
Painting (acrylic and/or watercolor)
Fashion illustration and/or cartooning
Paper making (either through stamping, staining and/or marbeling techniques)
Photography
Puppet making or plush character creations
Feel free to throw something my way and we'll discuss it
A few things to consider: the only day I am able to schedule visiting artist classes are Saturday mornings (930-1130), late afternoons (230-430), or evenings (530-830pm). You, the artist and teacher, can set the cost for the class and must provide all materials. I provide the studio space, water and snacks. We are both responsible for promotion of the class via email blasts, Facebook, Twitter and my website. We will schedule all classes 1-2 months out, so you have enough time to prepare for the class. Ideally, I will rotate the classes so each artist/teacher is able to instruct on a regular basis at my art studio.
My greatest requirement? You must believe in yourself, your craft and be a total people person with a good sense of humor. My studio environment is a happy place and students will keep coming back if they like you, true fact. You must also be able to connect with students as young as 7 and as old as 75.
The goal of this visiting artist program is three-fold: 1) to provide a studio space for your friends, family, fans and potential customers to learn from you, 2) to expose your work to a different demographic and give back to the community, and 3) to make supplemental income to support your creative endeavors.
If all this sounds lovely to you, I would love to hear from you via EMAIL and we can correspond this way until we figure out the details. I am most likely going to recruit 3 to start with, 7 total. We will have a chance to meet at the studio and discuss your "creative plan" before we finalize the schedule.
Feel free to visit my website at http://www.twinsoulartstudio.com to gain a glimpse into the studio and see what it's all about. Do not hesitate to email me with any questions.
Jeanne Yee threepaperpigs@yahoo.com