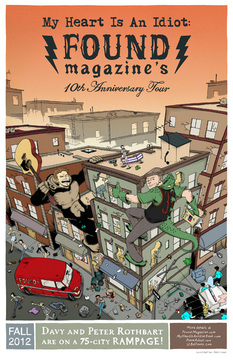 This fall two of our favorite road warriors, Davy and Peter Rothbart, are hurtling your way on FOUND Magazine's 10th Anniversary Tour, which celebrates the release of Davy's book of personal essays, "My Heart is an Idiot," Peter's new album, and a brand-new issue of FOUND. The Rothbart Brothers are hopping back in the tour van, FOUND treasures in tow, for an epic cross-country romp, with stops in 37 states and 75 cities!
At each exhilarating show, Davy (FOUND's plucky point guard) will share the latest magnificent and mesmerizing finds that've landed in the mailbox at FOUND HQ, plus outrageous tales from his new book, while Peter (FOUND's international heartthrob) will dazzle us with beautiful, haunting, and hilarious songs based on FOUND notes.
Come on out and join us at Anno Domini for the San Jose party!! Please bring your finds to share, and please let your friends in other cities know that they're headed their way!!
The New York TImes' review of the FOUND Tour here.
"Davy and Peter Rothbart are utterly engaging performers!"
– *The Los Angeles Times*
For more details, check out the FOUND site here.

My Heart Is An Idiot: Found Magazine's 10th Anniversary Tour with Davy and Peter Rothbart
Saturday, October 13th, 8pm / $5 at the door
Anno Domini Gallery
366 S. First St, San Jose, CA
Phone 408-271-5155
RSVP here.