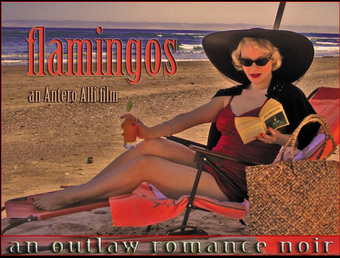 FLAMINGOS screens this Friday at Anno Domini at 8pm.
Twin sisters, Beatrice and Zoe, are in love with Ray, a hypnotist bank robber driven by visions of the end the world. Though Beatrice and Ray are married, Ray runs off with free-spirited Zoe and hides out in a motel after a bank heist. Meanwhile, Beatrice files for divorce as two enigmatic entities from the Bardo interzones take interest in their fates in this dizzy cocktail chaser of crime, metaphysics, and amour fou.
Prior to the screening, composer Sylvi Alli will perform a 15 min. set of songs from the film. Filmmaker Antero Alli will be present for a Q& A after the screening and then ArtemesiaBlack will perform a short set of live music.
Admission $5. Doors 7:30pm, Movie starts at 8pm

Anno Domini
366 South First Street
Downtown San Jose
www.galleryAD.com