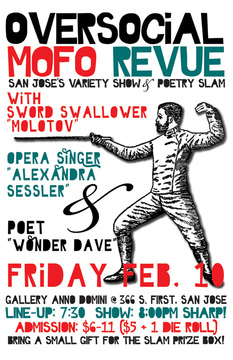 San Jose's one and only variety show and poetry slam is coming back at you FRIDAY FEB. 10th.
Main acts include sword swallower Molotov, poet Wonder Dave and opera singer Alexandra Sessler.
Also, spoken word sensation Seth Walker joins us fresh off the heels of his latest album release.
POETS: If you want to sign up for the slam, know that you need a 1-minute poem, a 2-minute poem, a 3-minute poem and 3 haiku.
When: Friday, Feb. 10th, 7:30pm
How much: $5 plus the ceremonial die roll ($6 to $11 total)
RSVP on the Facebook event page here.
Anno Domini
366 South First St.
Downtown San Jose