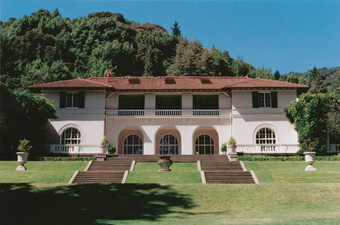 In 2012, the Villa at Montalvo Arts Center turns 100 years old! Built by Senator James D. Phelan, California's first democratically elected Senator, his beloved estate in Saratoga has evolved into one of the Bay Area's leading arts institutions and artist residency programs. It was at Montalvo where Phelan entertained artists, politicians, soldiers, scholars, and cultural figures until his death in 1930, at which time he bequeathed the estate to the state of California with a very specific mandate:
"I would like the property at Saratoga, California...to be maintained as a public park open under reasonable restrictions, the buildings and grounds immediately surrounding the same to be used as far as possible for the development of art, literature, music, and architecture by promising students."
Montalvo has kept Senator Phelan's legacy alive for all these years through the hard work and dedication of countless people who have supported the institution and the artists it serves with their time, creativity, and financial resources, all in recognition of the deep importance of the arts and nature in our everyday lives.
Join us throughout the year as we celebrate the history and future of Montalvo through these extraordinary events!
UPCOMING EVENTS
• SAT, APR 21 2012, 11 A.M. | 3rd Annual ARTS SPLASH!
• SUN, JUN 10 2012, NOON | Wedding of the Century
• FRI, JUL 20 2012, 6 P.M. | Rock the Garden: Sculpture on the Grounds Opening Celebration
• SAT, SEP 22 2012, 5 P.M. | Great Gatsby Gala
For more information, please visit: www.montalvoarts.org