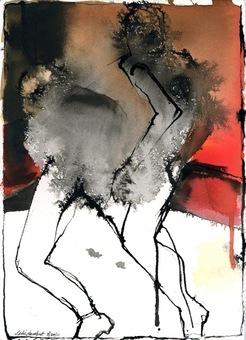 Works on Paper, 18 figurative drawings by local artist Leslie Lambert, is featured in the gallery at City Lights Theatre Company during the production of Aphrodisiac by Rob Handel.
Using simple tools like a hand-sharpened twig, a few bottles of ink, a brush and a spray bottle, the artist responds with a bold, yet delicate touch to the exquisite geometry of the living figure. A sense of mystery and intrigue reins supreme as abstraction and expressive realism combine in tiny, potent images.
City Lights Theatre Company
529 South 2nd St, San Jose, CA.
Aphrodisiac runs from January 19 to February 19, 2012.