Join us at KALEID Gallery for this upcoming Two Buck Tuesday!
An inspired evening of art demos, performances, live painting, scrumptious tastings, $2 art & quirky people get together!

TWO BUCK Tuesdays at KALEID Gallery

Tuesday, December 20th, 7-10pm
It's free and open to all ages!
Here are just some of the interesting artists and crafters you will meet!

Hands On Demos & Projects: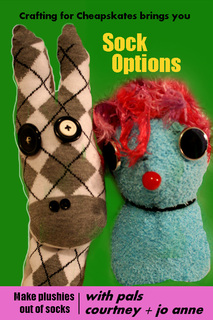 When a sock gets lost in the laundry, it's GONE, baby.
But that doesn't mean you have to throw the other one out. Pals
Courtney and Jo Anne will help you make a stuffed animal from those lonely socks!
No charge.
http://craftingforcheapskates.blogspot.com/

KALIED artist Cecilia Deck will help you to transform simple squares of paper into origami wreaths to help you get in a festive mood. Choose from several styles and pick your favorite colors of paper!
Make your own Steampunk Christmas ornament or accessory for as little as $2 using shining clockwork gears created from upcycled cardboard shipping boxes. These ornaments are featured in the Ainsley House's Steampunk Christmas display.
Local artist and citizen scientist, Kathryn Hedges, designed these intricate gears and other motifs to cut on the laser cutter at TechShop San Jose and spray-paint with metallic paint. She will also sell loose gears to use in your own projects. You can see her work at www.etsy.com/shop/SplendidColors/.

Live Artists:

Entertaining Mood Music by The Complications!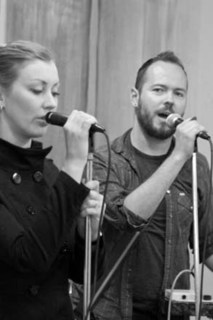 Savory Bites by:

Alexander.Creationz will have freshly baked Cheesecake Cupcakes available in Rasberry, Lemon, Red Velvet, Strawberry & Banana!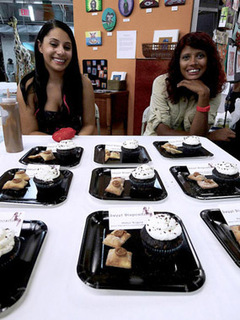 Sugar & Spice will once again tantalize your taste buds with a tasty array of delicious vittles!

We hope to see you there this Tuesday, December 20th from 7-10 pm!
KALEID Gallery
88 South 4th Street
Downtown San Jose
www.KALEIDgallery.com
(408) 947 1785

Would YOU like to show off your talents at Two Buck Tuesdays? Let us know!