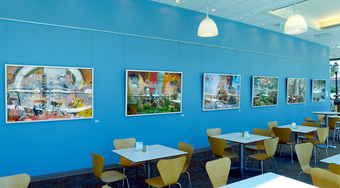 Phantom Galleries is working with the new 488 Café to provide professional art exhibitions within their dining area debuting with digital artist Alex McLeod (courtesy of Anno Domini Gallery).
Housed on the ground floor of the PWC Building, the cafe is a perfect place for a quick breakfast or a relaxed lunch. The 488 Café brings you local and fresh meals and snacks with your schedule in mind.
For your morning, an espresso bar from Barefoot Coffee Roasters and breakfast selections served up hot and fresh to start your day off right. For your mid-day, a different guest local restaurant joins the large selection of hot and cold lunches to excite your taste buds and ignite the rest of your day. With both an everyday menu of crowd favorites, as well as diverse daily specials, 488 Café has something for everyone.
Hours: Monday thru Friday, 7am-2pm
488 Café
488 Almaden Blvd (@ Balbach St.)
San Jose, CA 95113
(408) 659-4889
www.aramarkcafe.com/488