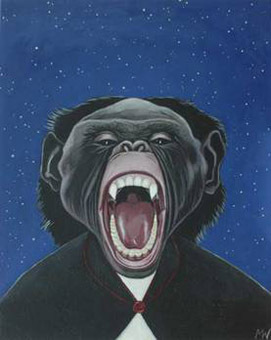 Say Ahhh, acrylic on wood, 10" x 8", 2011
KALEID Gallery artist Michelle Waters has a full exhibition schedule this fall showing her work in multiple galleries in California.
"Muerto en Vida" Day of the Dead group show at Cactus Gallery in L.A.
Opening: Saturday, October 8, 7 – 10pm
A stellar group show featuring more than 40 artists who have created original works just for the show. Oil painting on canvas, acrylics on canvas and wood, dolls, sculpture, mixed media works, custom wood cut outs and more!
Show runs through November 8th.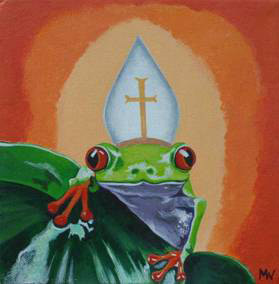 Lord of the Flies, acrylic on canvas, 6" x 6", 2011
"Bite Sized Monsters"
Another group show at beautiful Modern Eden in North Beach.
Opening: Saturday, October 8, 7-10pm
Show runs through November 6th.

You can also find Michelle's work in two local South Bay group shows: "Monster Mash-up" at Psycho Donuts in Campbell (party/opening on Saturday October 15) and "Scary Monsters and Super Beats" at On the Corner Music at 530 E. Campbell Ave., Campbell. Both shows will run through the end of October.
visit MichelleWatersart.com for more information.