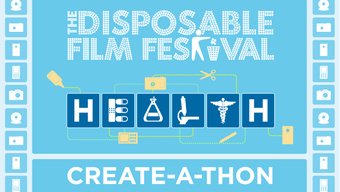 We're very excited to announce the first ever Disposable Film Festival Health competition with a grand prize of $5,000!
Whether you've had a medical issue change your life, are passionate about healthcare, or are a filmmaker looking for a new angle, we want to hear your stories.
We're kicking everything off with a free film workshop in San Francisco. Join us and film, heath, and advocacy professionals to talk about how to create compelling narratives about wellness, patients and doctors.

The Create-A-Thon
Saturday, September 24 from 10:00am to 4:00pm
Hotel Rex: 562 Sutter Street, San Francisco, CA
A complimentary lunch will be served.* Wine reception to follow the fun.
Register for the event on Eventbrite

Not in San Francisco?
You can still submit your health film October 24 for your chance to win:
$5,000 cash and special recognition at a VIP screenings on November 10 and 11.
Submit your film and learn more: disposablefilmfest.com/health