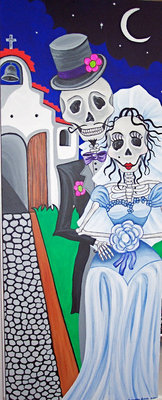 This summer, San Mateo County Fair will be featuring a new 2-dimensional art category for its annual competitions. All artists, of all levels of experience, are encouraged to submit their work and participate in this new category honoring an ancient tradition.
The event will be held on the last day of the fair, Hispanic Day.
The gallery and art, however, will be open during the entirety of the fair.
This event is not limited to artists. Everyone is more than welcome, and we hope to be visited by family, friends and the families of friends.
Some of the things our awesome interactive exhibit will be including are:
- A traditional Dia de los Muertos Altar
- A guest-lecture by photographer and journalist Mary Andrade
- A Dia de los Muertos Dance Performance by Alma de Mexico SSF
- Day of the Dead face-painting by Elisabeth Mauberett
- Sugar candy skull decoration with Carolyn Sutton
- and much more!!!!
Please contact us with any questions about participating, visiting our exhibit, submitting art or anything else you might be curious about.
Mauricio Garcia
mo.garcia.jr@gmail.com
650 892 0565
Evangelina Portillo
evangelina@mac.com
650 892 0572
Facebook Group: http://www.facebook.com/event.php?eid=139563342770258
Please invite other artists and people interested in the Day of the Dead. Thanks!
----------
The details for the art submission category are as follows:
DIVISION 316 – DIA DE LOS MUERTOS/DAY OF THE DEAD
Sponsored by Eva Portillo
AWARD OFFERED: Rosette and $300
This award is given to the artist whose work best captures the essence of the Dia de los Muertos tradition; its meaning and purpose. The artwork should be reflective or representative of one or more of the many styles of celebration native to Mexico. Open to all Visual Arts categories. Only Two-dimensional Art Entries, no photos or video.
ONLY ONE SINGLE SELECTION WILL BE MADE FOR THIS AWARD.
Eligibility: This contest must be entered separately on the entry form. No double entry allowed in another division.
Official information for submitting art work:
https://www.sanmateocountyfair.com/