Join us for our Featured Exhibits by Dotti Cichon and Kathleen Wolf at KALEID for the month of March.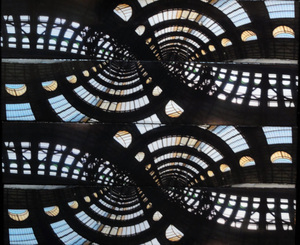 Dotti Cichon: The Grandeur of the Commonplace: Impressions of Europe two bodies of photographic work from a recent trip to Europe.
The Grandeur of the Commonplace explores the incredible beauty of ordinary places such as train stations, shopping malls, shops and stairways in panoramic photographs that exaggerate perspective by having forced the camera to do things it was not meant to do. Impressions of Europe, work done in Paris and Les Andelys in France is an homage to the impressionist painters who attempted to capture "impressions" and not just copy reality which is something that, by definition, is a challenge to emulate as a photographer.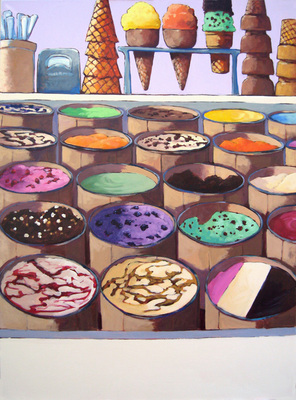 Kathleen Wolf: Almost Edible
This exhibition is comprised of several approaches to food painting: the earliest works represent visual recipes, the second is comprised of viewing food from multiple viewpoints or having it disappear off over the horizon, creating a different type of visual movement. The third, and most recent work invites the viewer to participate in the purchase of food from places they are familar with, an Ice Cream Parlor, Bakery, Deli, etc.

Artists' Reception: Friday, March 4, 7-10pm
Artists' Reception is part of the South FIRST FRIDAYS monthly art walk on
March 4, 2011. View the full schedule of exhibitions at participating venues: http://www.southfirstfridays.com

KALEID Gallery
88 So. Fourth St.
San Jose, CA
www.KALEIDGallery.com
(408) 947 1785