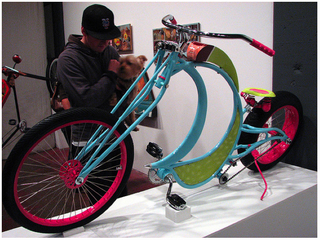 Lowrider Arcade exhibit by Shorty Fatz at Anno Domini, June 2007
Matthew Rodriguez and Samuel Rodriguez, creators of Shorty Fatz in San Jose, will discuss and demonstrate their custom-built bicycles as part of SJMA's ongoing "Creative Minds" series.
Shorty Fatz is a design and custom bicycle center created by Matt and Samuel, they design and manufacture custom, single-speed bicycles for enthusiasts interested in "cruisers" and fixed-gear bicycles.
This event should be a great discussion with two artists that are inspirational in their innovation as well as perseverance as entrepreneurs.
Thursday, Jan 6th, 5:00p to 8:00p
Admission: $8 ($5 seniors and students, free to members)
San Jose Museum of Art
110 S. Market St., San Jose, CA, 95113
(408) 294-2787