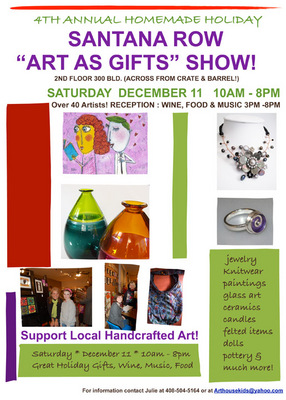 4th Annual Homemade Holiday Art as Gifts Show
Saturday, December 11th, 10am - 8pm
2nd Floor 300 Bld. (across from Crate & Barrel)
Over 40 Artists! Reception: Wine, Food & Music 3pm - 8pm
Vendor details:
* The space is at Santana Row across from Crate & Barrel. Huge, well lit, 2nd floor, great area.
* They are doing marketing for it with Facebook, twitter, web & eblast. (So must we all!)
* Booth fee is $100 - this goes directly to SR. I am taking 15% for sales.
* Nonprofits are $50 table. I have several worldwide organizations I will be donating a percentage to.
* Set up can be after 5pm on Friday Dec. 10th or EARLY on the 11th - before 8am.
* Take down can be anytime after 8pm on Dec. 11th or anytime on Sunday.
* Santana Row to provide 6 ft tables , linens & chairs
* All hanging items must have your own stand alone device.
* All sales handled by the artist but I will be checking out as well if you cannot be there the whole time.
* Inventory list to be provided & checked before the start of the show.
* I will have paypal provided as well.
* Booth fee required within 48 hours of agreement.
To participate, please contact Julie at jstov100@yahoo.com