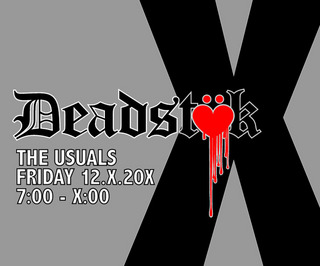 The Usuals and Streetbot present Deadstök X
Friday, December 10, 2010, 7p-10p
We are dusting-off our 2010 Deadstök designs! Expect to see new versions of tees by dNA, Everyday Debauchery, Lost San Jose, Kori Thompson, Lacey Bryant, Michael Foley, Anabella Pinon, Force 129, Wadl, Jane Doe, and more!
And say "Good-bye" to Streetbot! In it's last month with The Usuals, Streetbot is selling all remaining tees at $15. Make sure to grab your limited edition tees!
Cutso and SquareWeezy of The Bangerz will be here! Grab a silog from the WOW Truck, enjoy some beats, and spend some time with us!
THE USUALS
1020 The Alameda
San Jose, CA 95126