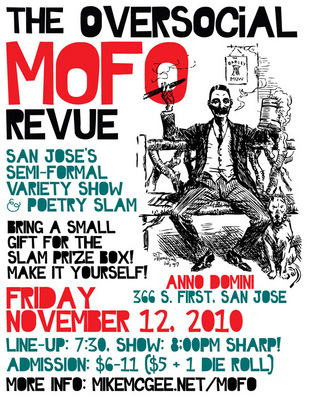 We're back!
November 12, 2010, 8pm SHARP
Anno Domini Gallery
366 So. First Street
Downtown San Jose
The OVERSOCIAL MOFO REVUE is the groundbreaking variety show hosted by "Mighty" Mike McGee, David Perez, and Tatyana Brown with the musical stylings of The John Staedler Symphony Orchestra.
...
Join us for Oakland's poetess Joyce Lee, the lush sounds of San Jose's Veronica Malki, San Francisco's juggling wunderkind, Bronkar Lee and the all new San Jose Poetry Slam.
LIMITED SPACE. FIRST COME, FIRST SERVE. The outside line up begins at 7:30pm. The show will start at 8pm SHARP!
All poets encouraged to sign up for the slam. WARNING! Slammers must come ready with more than two poems. See slam guidelines below BEFORE COMING TO THE VENUE.
TICKETS (at door only):
Admission is between $6 and $11. You pay a base price of $5 then roll a die and pay the amount showing on the die.
SIGNING UP TO COMPETE IN THE SAN JOSE POETRY SLAM:
If you plan to perform in the poetry slam, sign up outside before the draw at 7:45pm.
POETS PLEASE NOTE WHAT YOU WILL NEED TO COMPETE IN THE SAN JOSE POETRY SLAM!

1 one-minute poem
1 two-minute poem
2 three-minute poems
3 haiku (17 syllables each, we won't time these, but we'll be counting!)
Poets receive a 10-second grace period for each piece.
Judges selected at random and score from 0 to 100, NOT 0.0 to 10.0.
We will take 8 poets in the first round (7 random and the last 2nd place poet), selected randomly from the sign up list. The top 4 will advance to the second round. Then the two poets with the highest cumulative scores from the first two rounds advance to the Head-To-Head Bout.
SAN JOSE POETRY SLAM FORMAT BREAKDOWN:
Round One: 8 poets/1 minute each
Round Two: Top 4 poets/2 minutes each
Head-To-Head: Top 2 poets compete clean slate in a best of three haiku match to select order, then two rounds of three minute poems. Cumulative score will determine winner.
2nd Place moves onto the next slam, first slot in the first round, automatic by.
1st Place WINNER is an automatic member of the possible 2011 San Jose Slam Team and receives gifts from the Offering Box.