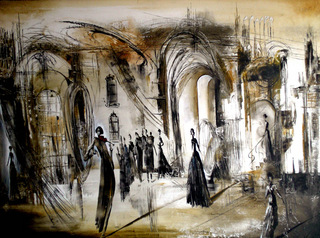 Vladimir Vitkovsky was born in Russia, in 1950. He studied art at three prestigious St. Petersburg Art Schools, learning techniques from various Russian teachers and then broke away and began experimenting on his own.
Vitkovsky creates a unique world of emotional surrealism where the past, present and future are transformed into a heightened sense of "right now". His oil paintings transport viewers from the representational into the abstract world. His application of paint is a dramatic contrast between thin, luminous layers and heavier impasto. The artist couples heightened realism with blurred, fluid edges.
You're invited to attend the Fashion and Art Theatre with Artist Vladimir Vitkovsky and Fashion Designer Vasily Vein.
Two days only! December 11th and 12th
Don't miss the unique chance to meet, enjoy and purchase wearable and visual art by Vasily Vein and Vladimir Vitkovsky. Enjoy art, fashion, live music and wine.
Dec. 11th
Reception: 12pm-5pm
Photo-shoots:1pm-4pm
Runway: 2:30pm
Dec. 12th
Art and Trunk Show: 1pm-5pm
New BBC Winter Menu by Chef Tim Uttaro and full bar available
Visit www.vitkovskyfineart.com

British Bankers Club
1090 El Camino Real, Menlo Park, CA 94025.
www.britishbankersclub.com
650 327-8769