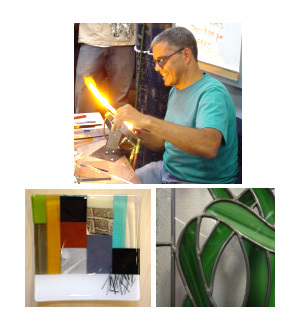 It's getting to be closer to the holiday season. Time to get together with friends, take a little time off from your busy schedule and plan what to do with the family during the winter break.
How about coming down to the Art Glass Center and be a Glass Artist for the Day! (for 50% off!)
We've got an exciting opportunity for you to purchase the Glass Artist for the Day experience for half price! The class is regularly $140, but the special Groupon pricing is $70 for this unique experience doing torch working, fused glass and copper foil techniques. You can use the coupon yourself or give it as a gift to someone who might like working with glass.
The class introduces students to fusing, stained glass and torch working allowing them to take home a project from each area. This class is ideal for anyone 12 to adult who is fascinated by glass.
We've partnered up with Groupon to give you the opportunity to purchase this at an incredible 50% off this weekend only! The Groupon vouchers are valid for 1 year. Check out their listing for all the details here www.groupon.com/san-jose/

Hope to see you soon!
Janett

Janett Peace
President
San Jose Glass Artist Alliance (SJGAA)
jpeace@sjgaa.org