KALEID Gallery presents new solo exhibitions by Mariana Barnes and John Eric Paulson on Friday, October 1st, 7-9pm.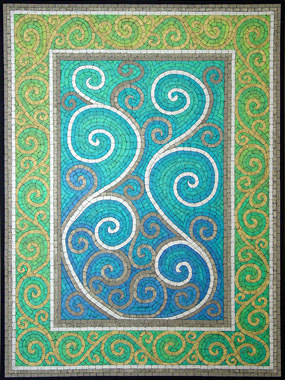 Ancient Art, Modern Twist by Mariana Barnes.
Mosaics have been used in artwork around the world for thousands of years. Mariana Barnes has adapted this ancient art form into her mosaic-like style of painting. She gathers inspiration for her work from the art and symbols of past and present civilizations, combined with the patterns she sees in nature and everyday objects. She uses geometric and nonlinear designs, complementing them with iridescent tones and
luminescent colors.
The process of her art is meditative. She strives to make art that is calming and peaceful and art that speaks with candor and passion. Her work is intended to be healing -to spark a sense of well being in the viewer.
About the artist: Mariana Barnes is a self taught artist who has been painting for over 20 years. Her many interests such as science, music and writing have also played important roles in her life, and each finds a way into her art.
Originally from Argentina, she has been exposed to a sophisticated Latin American culture, where art and music are highly regarded and are a normal part of everyday life. All of the color and energy of her Latin American background nourish the paintings she creates.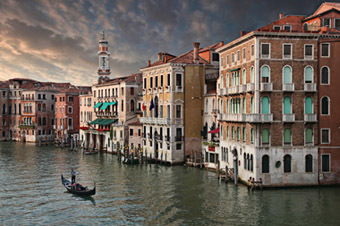 Italy Today by John Paulson
Thousands of years of history have produced the beautiful country of Italy. Visitors are pleasantly surprised by the diversity of the Italian culture. Italy is a young country. It became a unified nation in 1861. John's first trip to Italy was in 2001. The enchantment he felt has drawn him back many time since. This exhibit will hopefully bring the same feelings to you, the viewer.
About the artist: Photography has been John's passion and profession for the past 34 years. He has a B.A. degree in Art from San Jose State University and has been awarded both the Master of Photography and Photographic Craftsman degrees from the Professional Photographers of America.
In 1997 John began pursuing digital images in his work. John's current works have evolved form his travels in the Mediterranean. Capturing hte basic beauty of the land and enhancing its drama is what he enjoys best.

Artists' Reception: Friday, October 1st, 7-9pm.
Part of the South FIRST FRIDAYS art walk. Visit http://www.southfirstfridays.com for full event information.
Music by Gianfranco Paolozzi & Friends and light fare by Fundamental Gourmet.

KALEID Gallery
88 South Fourth Street
San Jose, CA
www.kaleidgallery.com