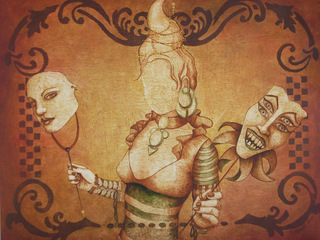 KALEID Gallery's Sandi Billingsley's donated art work
UPDATE: Sara Cole will be having a 50% off sale of the art that remains from this benefit sale to raise more money for her mother on Saturday the 21st of August from noon till 5pm at her studio at 592 North 5th Street, San Jose CA 95112.
STROKE ALERT! A Benefit Art Show & Sale for Stroke Awareness
There are approximately 700,000 strokes affecting people in our country every year, 4,500 affecting those in Santa Clara County alone. Stroke is the 3rd leading cause of death in the United States, after heart disease and cancer. Many strokes are preventable and awareness of the signs and symptoms of stroke can save lives.
The Sara Cole Fine Art Studio is hosting a stroke awareness art show and sale to raise awareness of strokes, and to benefit both the Stroke Awareness Foundation and recent multiple stroke survivor Margaret Cole's long term care and rehabilitation. Margaret, 63, has undergone several strokes in the last 18 months and is in need of assistance to complete her rehabilitation and long term medical care and housing costs.
STROKE ALERT!, a benefit event, will include live music, information provided by the Stroke Awareness Foundation, live action painting, live belly dancing, and live glass blowing, and over 100 works of art donated by many generous local artists for sale.
date/time: Saturday August 14th, 2010, 6pm till 10pm
location: Sara Cole Fine Art Studio
592 North 5th Street
San Jose CA 95112