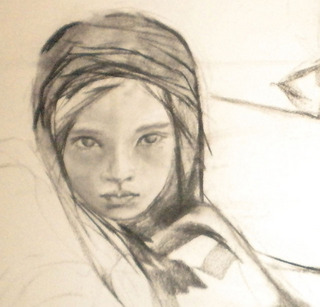 Nine on the Line
Opening Reception: Thursday, 5 August 2010 (7-9pm)
Exhibition: 5 August - 16 September
UC Berkeley Extension Art & Design Center Gallery is proud to present "Nine on the Line," a multimedia exhibition showcasing works by nine Northern California artists. Jean Davis, Scott Durcanin, Heather Hayashi, Darpana Kapil, Fei Li, Cherie Pinsky, Susan Sternberg, Michelle Tan, and Victor Zubeldia have come together to share with viewers a visceral celebration of life and a glimpse into the human soul.
With mixed media, Jean Davis creates realist and surrealist portraits that reflect a personal global perspective of people, celebrating humanity's diversity of culture and the physical expressions we all embody.
In a combination of witty titles and painted abstractions, Scott Durcanin's work expresses the anxiety from the decline of the US financial markets and employs mockery to add levity to the often catastrophic events.
Through abstract acrylic and watercolor paintings, Heather Hayashi's work represents freedom and harmony, using organic forms or meandering lines in an expressionist yet purist form inspired by eastern philosophy.
Shown through the work of Darpana Kapil, life-size portrait paintings capture the divine energy being emanated by all humans, from ancient deities to street musicians the creative power that lies in all humanity is made visible.
The surreal figurative oil and watercolor paintings of Fei Li reveal metaphysical possibilities of human transcendence and withstanding beyond physical barriers, distances, and the erosions of time.
Cherie Pinsky's paintings of San Francisco landscapes and works from life invite the viewer to join in an intimate visual poetry, evoking the sensuality of an environment and enveloping the viewer in a mysterious wonderland of color.
Through works that range from traditional painting to 3-D conceptual pieces, Susan Sternberg's introspective on American identity raises universal questions about who we are, and invites the viewer to share experiences which are not only personal, but transcends definitions of country border and time.
Michelle Tan's multimedia works on paper depict human inequality and squalor, yet by contrasting harsh and delicate shapes, she reveals a glimmer of hope in the ever-present beauty of humanity's ability to change the world for the better.
Through figurative and surreal oil painting, Victor Zubeldia reveals the internal and yet universal struggles of humanity leading to unconditional love and compassion, in an epic journey of transformation.
Gallery Hours: Monday – Friday (8am – 10pm), Saturday and Sunday (10am – 5pm). www.berkeley.extension.edu
UC Berkeley Extension
Art and Design Center Gallery
95 Third Street (@ Mission)
San Francisco, CA 94103 USA
visualarts@unex.berkeley.edu
(415) 284.1081