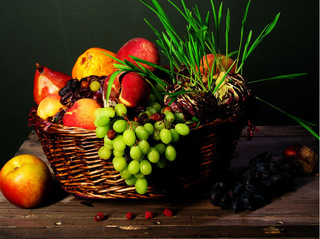 Part Feast. Part Art. Part You.
Only at the 2010 01SJ Biennial.
This epicurean feast prepared by renown chef Kitty Greenwald is paired with stunning projections by filmmaker and new media artist Grahame Weinbren
What: an epicurean feast paired with stunning projections that together explore foodís shifting identity
Where: San Jose City Hall Rotunda
When: Tuesday, September 14@ 8pm-11pm; includes unveiling of Rockwell LABís City Hall installation.
Tickets: $304.00 (Purchase tickets here: http://01sj.org/2010/events/slwb/ )
Still Life with Banquet investigates the contradictions present in 17th and 18th Century Dutch still-life paintings by translating them into a contemporary context.
Adorning the walls of the houses of the bourgeoisie, for whom these wondrous goods had recently become available?through the development of colonies and expansion of international trade?Dutch still lives illustrated the fruits of global commerce comfortably removed from the exploitation that fueled the Dutch Republic's phenomenal rise to prosperity.
On September 14, 2010, a cross section of people will gather in an unusual urban location for a seasonal menu created using pristine, iconographic ingredients. The dishes will nod to the Dutch cookery of the Golden Age, the setting's culinary history, and the chefís improvisations.
Accompanying the meal will be super high-resolution projections?modeled after these still lives?using the mealís ingredients and table decorations. During the consumption of each course, the diners are surrounded by images of its ingredients naturally returning to the soil in an ecological process of decomposition, while at the same time the flowers and plants decorating the tables emerge in a natural process of growth, replacing the now decayed, decomposed and moldy foodstuffs.
Artists
Grahame Weinbren is a filmmaker and new media artist whose installations have been exhibited and films screened in museum, galleries and festivals worldwide. Weinbren publishes and lectures on cinema, interactivity, and new technology and is an editor of the Millennium Film Journal, and on the graduate faculty of the School of Visual Arts in New York.
Kitty Greenwald has cooked in New York, France, Italy and Portugal. She has worked at Slow Food Nation, The Smithsonian Folk Life Festival: Food Culture USA, curated Slow Film Night at the YBCA Slow Food Nation exhibit and co-created a dinner for Agency, Montalvo's 2009 Arts Initiative celebrating Silicon Valley's agricultural and culinary history. She has written for Real Simple, National Geographic, and Mercury News and is currently authoring a cookbook for Reader's Digest.